Panorama of Tivat Tivat is the newest and smallest municipality in the Bay of Kotor. It did not begin to grow and develop as an urban center until the end of the nineteenth century. Altogether it covers about 46 km2 and has a population of about 13.000. The size and youth of this beautiful town in no way reduce its importance. The main airport for the Montenegrin coast is situated within its territory. A place where every year tens of thousands of tourists from all over the world have their first encounter with Montenegro.





Tivat Airport In the town of Tivat itself there are several hotels and good places for entertainment. Don't miss the Gallery in Buco's Summerhouse, and you must drink a coffee on the seafront before setting off to explore the surrounding areas which have so much to offer. From mountain hikes to farmhouse holidays and visits to the islands and the whole seaside experience. The Tivat seafront, The Gallery in Buco's Summerhouse Tivat occupies a very good position and is near to the Airport, the borders with Croatia and Bosnia & Hercegovina, as well as the other towns in the area, Kotor, Herceg Novi, Budva.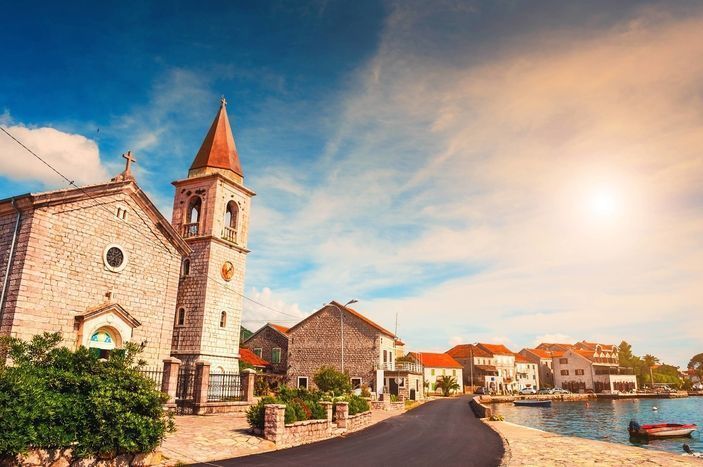 It is linked to the ancient town of Kotor by a tunnel under Mt. Vrmac, while those who enjoy beautiful old stone houses and the views of the bay from Tivat to Kotor can take the old road via Lepetane, Stoliv, Prcanj, and Muo. Tivat Bay When you cross the border into Montenegro from Croatia or Bosnia & Hercegovina at Debeli Brijeg or Sitnica and then after taking a walk around Herceg Novi you carry on in a southerly direction, take the ferry and disembark at the other side of the bay where you should turn right and after just a few kilometers will find yourself in Tivat. On the other side of Tivat, you cross the Grbalj plain and arrive in Budva in just ten minutes.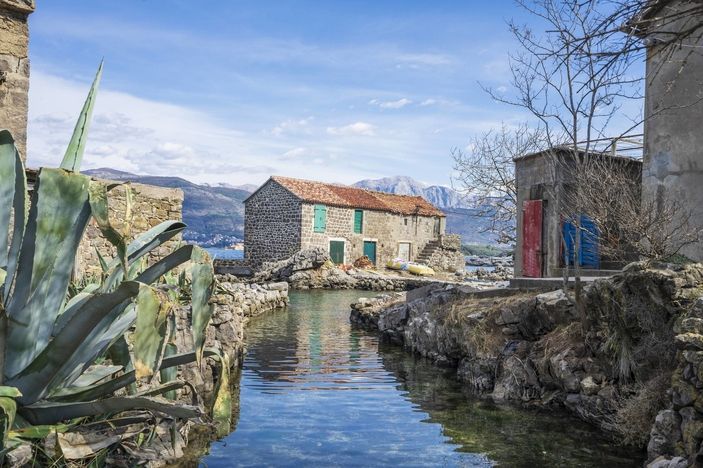 Jaz beach Near the town there are many places to visit. Among the attractions, it is worth mentioning Gornja Lastva which is of itself a unique old urban settlement. From here you have one of the most beautiful views of the whole bay of Tivat, the islands, and the surrounding areas. Gornja Lastva, A Church in Gornja Lastva Of course Bigovo cove and the beaches of Jaz and Trsteno should not be missed if you are headed for Budva or further south. They are a must for those who love fish specialties from the fishing village of Bigovo or a refreshing swim at Jaz or Trsteno. Up the hairpin bends with a superb view of the whole bay, you will arrive in Njegusi where you can try all the traditional Montenegrin specialties (prosciutto, various types of local cheeses and smoked meat, brandy, honey liqueurs, etc.)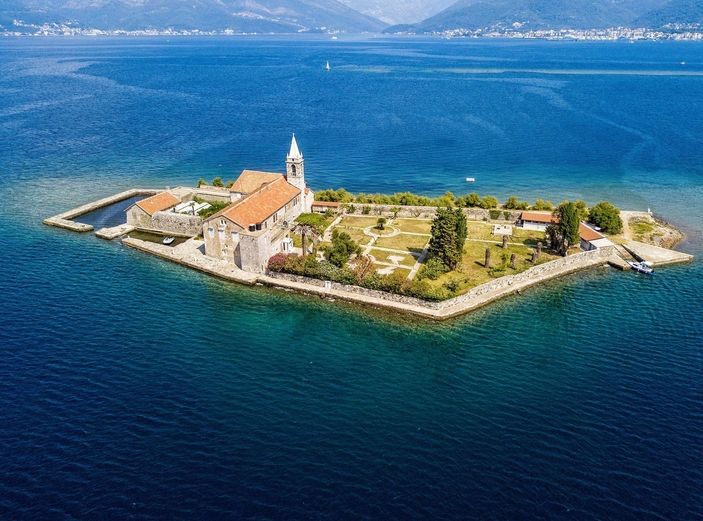 View of Krasici, the coast of Lustica If you decide to spend some time by the sea, you will find Krasici, Radovic, Plavi Horizonti with its wonderful sandy beach in an even more beautiful bay all within easy reach of Kotor, or you can continue on from Krasici and Radovici through olive groves into the Lustica peninsular. Near Tivat, there are several beautiful islands "the Isle of Flowers", St. Mark and Our Lady. St. Mark's Island and Our Lady Tivat is a town that is continually growing and developing and in the last few years, many tourists who have visited the surrounding area have decided to stay. An increasing number of British, Norwegians, Russians, Dutch, and others have decided to stay and secure a safe beautiful place for their holidays in still-untouched Montenegro. A typical Boka house in Gosici


The coast at Radovic


Gordan Stojovic
Montenegro.com