Did you ever consider driving on the day before your wedding to a remote mountain lake, beautifully framed by rock-hewn mountains and stands of spruce trees, and once there throw a coin into the clear blue waters for nothing more than luck? Lake Hrid (Hridsko Jezero) is known in Montenegro as "Lucky Lake" – the waters of Lake Hrid are said to bring unending luck in marriage. While throwing something of value into the water is always a safe bet, many people travel to Lake Hrid to fulfill their lucky endeavor by taking a dip in its cool mountain water. Travelers to Lake Hrid can admire one of Montenegro's less well-known mountain paradises.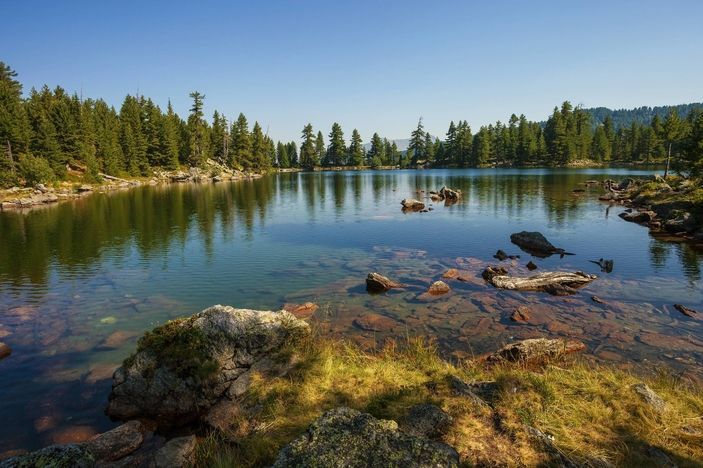 With a depth of about 5 meters (16 feet) in the summer, Lake Hrid provides an attractive option for families that are looking for the calm of the mountains. Frozen in winter, Lake Hrid isn't Montenegro's largest lake at 300 meters (less than a quarter-mile) in length. However, what it lacks in size, it apparently makes up for in terms of the "luck" factor, and its stunning setting among stands of pine trees and spruce. Find Lake Hrid in the northwestern corner of Prokletije, easily accessible from the towns of Plav and Gusinje.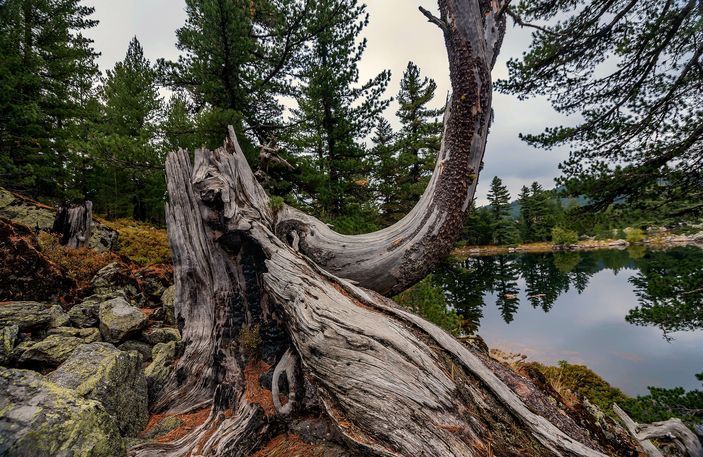 Just beyond Lake Hrid lie the towns of Plav and Gusinje. The small town of Plav is well known for some rarities that you find in very few other places around the globe, including a floating island in the nearby lake, appropriately called Lake Plav. More importantly, the region is chock-full of Karst caverns that recently have become famous the international press as teams of explorers attempt to map their tremendous depths.



Lake Hrid (Hridsko Jezero), Lake Plav, and a number of other natural wonders are easily accessible once you reach the region, and travelers often find these areas, including the town of Gusinje, to be more authentic and offer a truer Montenegrin experience when compared to the coastal destinations.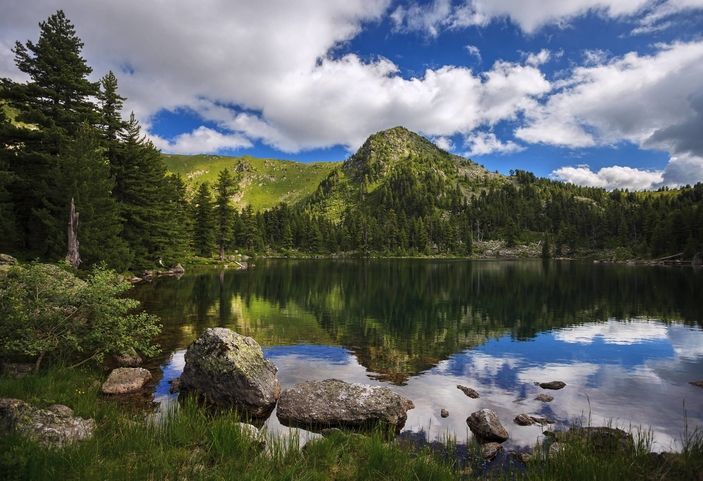 It's almost impossible to believe what natural beauty lies hidden in the area of Plav and Gusinje. If you are searching for a more authentic experience or just want to get off the beaten track, Lake Hrid and the towns of Plav and Gusinje may be our next stopping-off point.




In the photos accompanying this article, we not only show you "Lucky Lake" (Lake Hrid), but also a cross-section of what the region near Plav and Gusinje has to offer.



Because of Montenegro's growing popularity, the country is quickly becoming a top destination for cultural and historic tourism, adventure seekers, sun worshipers, and those who would simply like to find a relaxing place to lose themselves among natural beauty. Lake Hrid (Hridsko Jezero), Plav, and Gusinje always give us an attractive option for "losing yourself" among relatively untouched natural beauty, and it's our pleasure at Montenegro.com to help showcase this region for the first time.



Gordan Stojovic www.montenegro.com